Today I'm writing about the new trend in dressy shoes. I noticed there are many dress shoes now with red soles. I like the look but wonder will the red color rub off when you walk in the shoes? There is also a new trend that has a thick heel on the front of the shoes. I wonder if these would be comfortable to walk in because they reduce the angle of your foot. They look nice. I don't own any of these but notice the trends and I think they look pretty. Here are a few I found that I hope you will enjoy too.
I found these styles on a website called Shoedazzle.com. You can sign up and fill in your preferences then they come up with styles of shoes they think you would like for your wardrobe. You don't have to sign up to buy any, but it's fun just to see what they come up with for your personal choices. I'm not sure how comfortable these would be, but they do look nice.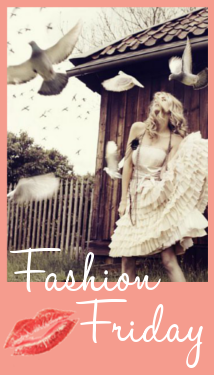 If you want to join the Fashion Friday blog hop, see Kori's website "Blonde Episodes" for details on her post today. You can click on the button above to get to her site. Have a happy Fashion Friday!