Last week I wrote about The Green Carpet Challenge. This week I'm writing about Red Carpet Green Dress which was launched by Suzy Amis Cameron (environmental advocate, wife of Director James Cameron) and run by Global Campaign Director Samata Angel. The purpose is to highlight the importance of sustainable fashion on red carpets and runways of the world and to raise funds for MUSE Global and MUSE school Ca (non-profit in California). This is a competition where designers can submit sustainable fashions for red carpet events. The philosophy of Red Carpet Green Dress is that you are either a part of the problem or a part of the solution. Red Carpet Green Dress wants to be part of the solution by bringing attention to the beauty and practicality of sustainable designs. You can read more about their philosophy and history at
The Story: Why We Started
. While you are there check out the rest of the site for some great photos, videos and news about
Red Carpet Green Dress
. This year, from the Academy Award winning picture "The Artist" actress Missy Pyle wore a beautiful, aqua blue gown designed by Valentina Delfino. Delfino was among hundreds from around the world who submitted a sustainable dress design for the competition.
Missy Pyle wore this beautiful, aqua blue, mineral dyed, cruelty free gown which also featured re-purposed zippers, and a lining made from recycled polyester.
Suzy Amis Cameron wearing a beautiful, blue sustainable gown designed by Jillian Granz in 2010.
I want to thank Suzy Amis Cameron for being another advocate for Eco fashions on the red carpet and bringing them to the forefront. She and Livia Firth are proving we can still have the beautiful, glamorous gowns we love to see on our favorite celebs and showing us we too can have sustainable fashions as well. Which celeb do you want to see wearing the next sustainable gown at a red carpet event? I vote for Angelina Jolie or Sandra Bullock! I hope you enjoyed learning more about Green Fashions. I'll keep watching for these wonderful gowns and when I see them, I'll make sure to show them off on my Fashion Friday posts.
Today I'm linking up with Kori from Blonde Episodes for the Fashion Friday blog hop. Check out Kori's post by clicking the button below. If you have a fashion post today, hope to see you on the blog hop. Happy Fashion Friday!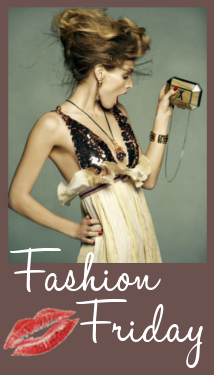 Missy Pyle picture courtesy of Pinterest. Suzy Amis Cameron picture courtesy of Red Carpet Green Dress.